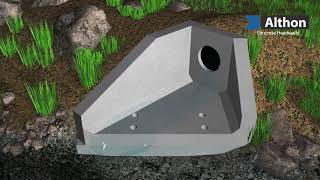 Precast concrete headwalls offer a cost effective alternative to in-situ headwall structures for pipework and concrete box culverts discharging into open watercourses such as rivers, ditches, ponds, swales and tidal environments.
Althon have the largest range of precast concrete headwalls available in the UK. We have concrete headwalls to meet Sewers for Adoption guidelines, a range of rectangular headwalls to conform to Severn Trent Water specifications and have headwalls with an array of wingwall profiles, backwall widths and heights as well as being able to offer bespoke precast headwall and wingwall solutions.
Drainage pipes discharging into open watercourses should be fitted with a concrete headwall. Althon precast headwalls can be factory fitted with a range of accessories such as flap valves, penstocks, Kee Klamp® handrails and a selection of gratings depending on the application.
We cast openings into the back wall of our precast concrete headwalls to suit the pipe material and diameter being used for ease of installation. We will also set the invert level as requested and draw for approval prior to manufacture if required. 
If you cannot find the headwall you are looking for please get in touch with us and we will be happy to assist. We are constantly uploading new drawings to our website and new precast headwalls to our range and we are confident we will be able to provide the headwall you require.
If you require any assistance or more information please contact us by phone on 01603 488700 or by email sales@althon.co.uk